Getting Started with the Semester
Adapted from original documentation by Andi Strackeljahn, PhD
If you would like to use Top Hat in your course, this page will walk you through setting up your Top Hat course and getting your students registered.
Creating a Top Hat Account
Creating a Top Hat Account
Note: If you already have an IU Top Hat Account, proceed to the next section. If you have used Top Hat at a previous institution, you will need to create a new IU Top Hat account.
Open a new browser tab and navigate to tophat.iu.edu.
Click the Instructor Login button.
The Log in to Top Hat screen will appear. If Indiana University is not automatically populated, search for your Indiana University from the drop-down menu that will appear, select IU.
Note that below the school field states that "This school uses single sign-on (SSO)"
Click Login with school account to be directed to the IU Login page where you can log in with your Indiana University username and passphrase and complete Duo authentication.
You'll be redirected back to Top Hat, where you will be asked whether you want to create a new account or merge an existing one. Click Sign up to create a new account with your IU credentials.
Enter your name, check the box to agree with the terms and conditions, and click Next. On the Top Hat account creation screen, the school and email fields are locked with information pre-populated from IU. Note: If you receive an "Email Address Already in Use" error message, there is already a Top Hat account with your email address. To correct this issue, contact Top Hat support at support@tophat.com or 1-888-663-5491.
Next, you'll be prompted to enter your mobile phone number to set up two-factor authentication. You may enter it and follow the instructions to verify or click Skip.
At this point, you will be prompted to create your first Top Hat course during the account registration process. In the Course Name field, enter the actual course name (ex. American History I) and in the Course Code field at the bottom, enter the course number beginning with the department code (ex. HIST H-105).
When you are done with that form, click Finish
If this is the only course you need to create you can jump ahead to Adding the Top Hat Registration Tool to your Canvas course
Creating a Top Hat Course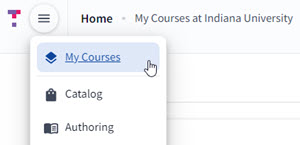 If you have previously created your Top Hat account and now need to create additional courses, go to your "lobby" by clicking the menu icon at the top left and selecting "My Courses." Here you will find the full list of your Top Hat courses. You can create additional courses using the blue "Create Course" button on the top right.
Please make sure you always put the actual name of the course in the Course Name field and, if you are teaching multiple sections of the same course, include the section number or the course meeting days/times in your course name as well. If a student misses the email invitation they may attempt to search for the course by title when enrolling on Top Hat. If you are teaching multiple sections of the same course, including the section number or days/times in each course title will allow them to easily identify which Top Hat course they should be enrolling in.
Adding the Top Hat Registration Tool to Your Course
In order for your students to use Top Hat with Canvas, they will need to authenticate with Top Hat through a link you provide in Canvas. There are two ways to do this, by adding the Top Hat Registration Tool into your Canvas course as an assignment or by adding Top Hat to your left-side course navigation menu.
Note that students will not be able to complete their registration until you pair your Top Hat course and your Canvas course as described below.
Add the Top Hat tool to the course navigation:
In Canvas, navigate to your course.
At the bottom of the course navigation menu, choose Settings.
In the Canvas Settings tool, select the Navigation tab at the top of the page.
Locate the Top Hat tool in the list of disabled tools (it should be near the bottom) and either drag it to the desired location in the list of active tools OR select the options (︙) menu and choose Enable.
Scroll to the bottom of the page and click Save.
Reload the page in your browser and confirm that Top Hat appears in your course navigation menu.
Create a Top Hat Registration assignment:
Creating a Top Hat RegistrationAssignment allows you to set a due date for registering that will appear on the student's To Do list and to give students a point or two for registering in advance of the first class where you plan to use Top Hat.
In Canvas, navigate to your course.
In the course navigation menu, click the Assignments tab.
Click the + Assignment button.
Name the Assignment (e.g. Top Hat Registration).
Set a non-zero point value for the assignment points. This will help to motivate students to complete the registration process by the determined due date.
For the Submission Type select External Tool.
Click the Find button and select Top Hat Registration
Check the Load This Tool in a New Tab checkbox.
Set a due date for the Top Hat Registration assignment (optional).
Click the Save & Publish button.
If you create an assignment, the following language may be helpful to include in the assignment description. If you added the link to the navigation, you may want to include this information in your syllabus, on your home page, or in an announcement to your students.
Sample announcement or email to your students
Some things you need to know:
Top Hat Classroom is free of charge for all IU students
To get started, please follow the instructions in the Student Quick-Start Guide
If you encounter any further issues, the Top Hat Support team is happy to help! We have a library full of support articles you can access (Top Hat Support site), or you can always contact their Support Agents (support@tophat.com) directly with any questions or concerns (make sure you use your @iu.edu email address.)
When using Top Hat in an on-campus classroom, to ensure you receive full points and don't lose internet connection, follow these guidelines:
Make sure you're using the eduroam WiFi
Close other apps that may be using your network connection in the background.
If you are using your smartphone, download the Top Hat app prior to coming to class, not during class.
Only submit responses by SMS/text message (Student: SMS/Text Message Submissions) or Offline Mode (Student: Offline Mode Submissions) if you are experiencing serious connectivity issues.
Should you require further assistance with Top Hat, their Support Team is here to help! You can contact them directly by emailing support@tophat.com, tapping the in-app support button, going to the Contact Support page in your browser, or calling Top Hat support at 1-888-663-5491.
Pairing Your Top Hat Course with Canvas
The final step to connect Top Hat and Canvas is to set up the sync between them so the two systems can communicate with each other to sync grades and class roster information.
Before you proceed, please ensure you have:
Created your Top Hat account
Created your Top Hat course
Added the Top Hat Registration tool to your Canvas course, either in the navigation or as an assignment
Published your Canvas course
Note: If you have co-instructors or teaching assistants for this course, whoever performs the initial sync will be the only person able to sync Top Hat to Canvas. Ensure you designate one instructor as the person who will facilitate the authentication and manage the syncing of grades throughout the semester.
If you're not already logged in to Top Hat, go to tophat.iu.edu and log in.
Enter the Top Hat course you would like to sync to your Canvas course.
Click the Settings icon to the right of the join code at the top of the page
Select the LEGACY LMS SYNC tab from the top menu. (Do not select the LTI 1.3 tab unless you are in the Top Hat Beta pilot.)
Click on the blue Enable LMS Sync button.
In the window that appears, click the blue Authorize Top Hat with your LMS button to give Top Hat permission to authenticate with Canvas.
If you are asked to authorize Top Hat to access your Canvas account, click Authorize to proceed.
Once your Top Hat account has been successfully authorized to access your Canvas account you will be presented with a list of the Canvas courses in which you are enrolled as an instructor. Select the course to sync with the current Top Hat course and click the blue Next button. If you do not see the intended course in the list, make sure that you are enrolled in the Canvas course as the instructor and that you have published your course in Canvas.
Next, you will be asked to select which sections you would like to sync to your Top Hat course. If no additional sections have been cross-listed into your Canvas course, check the box that corresponds to the course's SIS ID (e.g., FA19-IN-AMST-A303-33323) and click Connect. If your Canvas course has one or more cross-listed sections in addition to the original section, you can use a single Top Hat course for all sections or map specific sections to separate Top Hat courses. See the IU Knowledge Base article Set up Top Hat for a Canvas course with cross-listed sections for guidance on which option will work best for you.
When your Canvas course roster has been imported into Top Hat you will see the following message. Click the Go to Student Manager button to view and manage your Top Hat course roster.
Syncing your Course
During the first few weeks of the term, sync your Top Hat roster with Canvas at least once a day to capture recent adds and drops.
To sync your courses, go to your Top Hat course settings, select the Legacy LMS Sync tab, and click the "Run LMS Sync" button. For the 2022-23 academic year, please make sure you are using the Legacy LMS Sync unless you are part of the Top Hat Beta pilot. If you have difficulty syncing, please contact Top Hat support at support@tophat.com or 1-888-663-5491.