Using Microsoft Sway for ePortfolios
This page provides instructions on using Sway to create an eportfolio.
For information on what an eportfolio is and what it can contain, please see the IUPUI eportfolio site.
---
Sway is available to you through IU's contract with Microsoft for Office 365. It helps you to create a basic webpage you can use as an eportfolio for a single course or a program capstone. The webpage you create is also called a "Sway."
Things to keep in mind
Sway is a browser-based app. There is no downloadable app for your computer or phone.
Since it is a browser-based app, there is no Undo button. To undo your last action use Crtl-Z for Windows or Command-Z for Mac.
You can only view Sways on a mobile browser. You cannot edit Sways on a mobile device.
While working on a Sway you will occasionally get a pop-up message asking you to refresh the page. Everything you add to a Sway saves automatically so you will not lose your work by refreshing.
This guide includes instructions on:
---
Creating a Sway
To create a Sway, go to https://sway.office.com/. You'll need to log in with your IU Microsoft account if you're not already logged in. (See information about logging in to your IU Microsoft account if you've not done it before.)
Once logged in, you can create a blank Sway by choosing the "Create New" button. If you prefer, you can also start from an ePortfolio Template. You can see an example eportfolio based on the linked template at Jazzy Jaguar's ePortfolio which includes different types of artifacts.
When you are editing your Sway, to see what your Sway looks like, select the Play button in the upper right of the page to change to view mode. To return to edit mode, select the Edit button that appears in the same upper right corner when you are in view mode.
---
Organizing Your Sway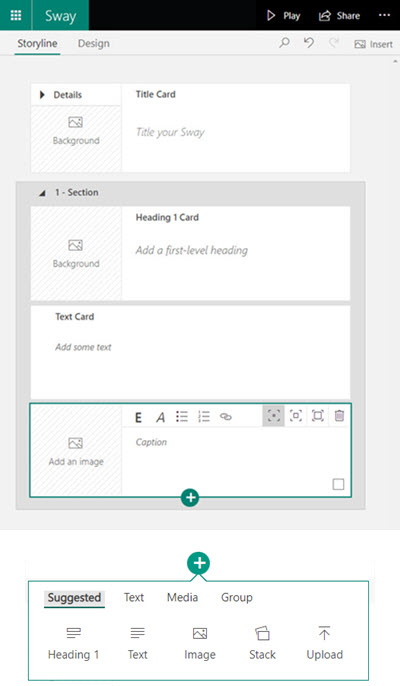 Sways are built by adding a series of sections containing cards. Cards are where you will add your eportfolio content. When you begin with a blank Sway you will start with a single section including only a Title Card.
To add additional cards to a section or additional sections to your Sway, select an existing card and select the green "Insert Content" button (with a plus sign) at the bottom of the card. Doing this will open a rectangle with 4 tabs labeled Suggested, Text, Media, and Group with the Suggested tab showing.
The suggested tab includes the following card types
Heading 1 – this card starts a new Section with a large title and the option to add a background image.
Text – the majority of your content such as descriptions of your artifacts and your reflections will likely be in Text cards
Image – this card opens a sidebar to search for images online or choose from your device or OneDrive
Stack – this card allows you add multiple images in a grid, slideshow, or comparison format
Upload – this card allows you to upload a document into your Sway. Sway will take the entire text from the document and put it in a series of Text and Heading 1 cards. If you want to attach a document to your Sway, you would link to it using a Text card.
If you choose the Media tab on the Insert Content box you will have additional options including Video, Audio, and Embed.
You can move cards up and down in your Sway by clicking on them and dragging them where you would like them to go or using Alt + Shift + Up arrow or Alt + Shift + Down arrow.
---
Changing the Look of Your Sway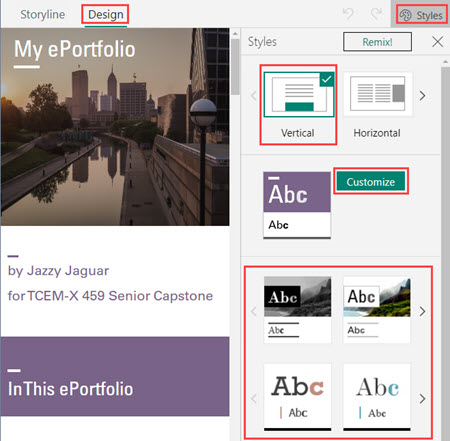 Sway Styles are how you change the general appearance of your Sway. To access Styles, choose the "Design" tab at the top left and then the "Styles" tab at the top right. Choose the "Storyline" tab at the top left to return to editing your content.
The first option in Styles is the orientation of the Sway. We strongly recommend that you use Vertical as the other options do not always keep content together within a group.
There are a variety of Styles available to choose from and each one can be lightly customized by selecting the green "Customize" button. You can change colors and fonts but the overall format is determined by the Style.
Style options and their variations are below the Customize section. Please choose a style with a white or solid color background. Text displayed over graphics is very hard to read and you want to make sure those viewing your eportfolio can read what you have written.
If you find a style you like but still want to try others, make a note of the style you liked to find it again since the thumbnail images all look very similar. Mouse over the thumbnail image to see the name of the style (i.e. "Style 2, Variation 2", "Style 4, Variation 3", etc.).
If you are using a screen reader, once you choose a style, put focus on the style block next to the Customize button and the screen reader will announce the header font, text font, and text size information.
---
Adding Content to Your Sway
The contents of your eportfolio are also called "artifacts." An artifact is usually a single assignment such as a paper, a presentation, or other item turned in to show what you have learned along with a reflection on the item and the process of creating it. An instructor may require a certain amount or type of artifacts for inclusion.
Generally, you'll want to create the following Cards for each artifact.
a Header 1 card with a title for that section of your eportfolio. You can add a background image to a Header 1 card.
Text Cards with information about the artifact, its context, and your reflection on it
either a Text Card or one of the media cards to hold your artifact
This section includes the following topics:
Adding Text
Most of your eportfolio content will be in Text Cards. There are some formatting options for Text Cards including, from left to right on the rich text editor:
changing the Text Card to a Heading 1 Card
bolding text using "Emphasize"
italicizing text using "Accent"
creating a bulleted list
creating a numbered list
inserting a link
changing the size of the text in your cards by using the Emphasis options on the card. Text size is set based on the card and cannot be changed for only part of a card. Emphasis options on a Text Card include subtle (small) or moderate (medium).
Linking and Embedding Artifact Files
Since artifacts are usually things you have created and submitted as part of your coursework, they are often documents, presentation slides, pictures, videos, web pages, diagrams, charts, etc. Only certain types of files and media can be directly embedded into your Sway. For a list of what can be embedded please see the Content Type list at the bottom of the Microsoft help document Embed content in your Sway.
Linking
For artifacts that you can't or don't want to embed, you can easily add a link in a Text Card using the Link tool in the rich text editor. Please make sure the Display Text is the name of the artifact and not just the URL.
While it's easy to get a link for a webpage, getting a link for a file or folder in cloud storage can be less obvious. To get a link for
Whichever source you are using, make sure the sharing permissions on the file are what you want them to be.
Videos stored in Kaltura need to be linked as Sway does not support the Kaltura embed code. To get a link for a video you have stored in Kaltura that will allow anyone with the link to view it:
Login to Kaltura @ IU
Select your name in the upper right and choose My Media.
Find the recording you want to share and select its name.
Open the Actions menu below the video and select Publish.
Select Unlisted and choose Save.
Once it has saved, select the Share button, copy the Link to Media Page URL to the clipboard
Select the Link tool in a Text card in your Sway and paste the link into the Web link text field.
Embedding
Note that if you embed any documents, spreadsheets, etc. from OneDrive, only people logged in to Microsoft 365 with their IU credentials will be able to see the embedded file. If the file needs to be accessible to people without an IU Login, you'll want to link the file instead.
Embedding is a bit more involved as you need to get the embed code for the file to paste into an Embed Card in Sway. Embed code will begin with "<iframe" and end with "/iframe>". To find the embed code for
a Microsoft file, see the instructions from Microsoft for embedding a Word Doc, an Excel Workbook, or a PowerPoint Presentation to learn how to get the embed code needed. You must have your file saved in OneDrive and use the Office web application to get an embed code.
a Google doc, see the Embed section in the Make Google Docs, Sheets, Slides & Forms public instructions from Google. While you can get embed code for Sheets and Slides, embedding them is not currently supported in Sway. We recommend saving them as Excel or PowerPoint files and putting them in OneDrive.
a YouTube video, see the instructions Embed videos & playlists from Google to get the embed code. Note that selecting "Enable privacy-enhanced mode" when copying YouTube embed code will cause an error in Sway.
Once you have the embed code, you can add an Embed Card in your Sway and paste the code in the space provided at the bottom of the card. To do this, choose the Insert Content button, select Media Tab, select Embed, and paste your embed code into the "Paste your embed code here" text field at the bottom of the Embed card.
Adding Video
If the video is on your personal device or stored in OneDrive, use the Video Card available in the Media tab of the Insert Content box. Creating a Video Card will open search options on the right that will allow you to upload a video from your device or your IU OneDrive (which will be labeled "OneDrive for Business").
Video stored in Kaltura will be added via a link. Video stored in YouTube can be embedded or added via a link.
Adding Images
If you have images you would like to include in your artifacts, you can add them from OneDrive or directly from your device using an Image Card. Creating an Image Card will open search options on the right that will allow you to upload a video from your device or your IU OneDrive (which will be labeled "OneDrive for Business").
The default size of an image is small. You can change the size of the image by selecting one of the three Emphasis options: subtle (small), moderate (medium), or intense (large).
When you add images, you may notice that Sway crops them to the point that you cannot see what is important. To fix that, you can set Focus Points with the Focus Points tool to make sure it zooms into spots you choose or you can mark the entire image as important.
Multiple Images

If you have multiple images you'd like to organize as a group, there are 5 layouts you can use for formatting. To see the layouts, choose the Group tab in the Insert Content pop-up. Select the option you like and then add your images individually to that group. You can change the layout at any point by choosing the "Group Type" option at the top of the group card. The default size of a group of images is small. You can change the size of the group using the Emphasis options. Some group formats will display image captions if the group is medium or large but not if it is small.
Decorative Images
If you are looking for decorative images, especially for your Title Card and Header 1 Cards, we recommend using your free access to Adobe Stock rather than searching the web. Images on the web are normally copyrighted but IU has paid for copyright access to images in Adobe Stock. Filtering your search by Shape: Widescreen will give you the best results for Title Cards and Heading 1 Cards. When choosing images, make sure that the title and heading text can still be read. Note that a Title card background image will normally fill the entire screen while a Title Card logo image will appear very small to the right of the Title.
---
Sharing Your Sway with Others
When you are ready to share your Sway, select the "Share" icon at the top right. There you can choose to get a link that will share your Sway with
Specific people or groups – for example, only with your instructor
Those in your organization with the link – for example, classmates and other faculty/staff
Anyone with a link
Whichever you choose, make sure the permissions on your artifact files and videos are set to at least the same level. Setting permissions to anyone at IU does not mean that anyone can easily find your eportfolio. You will still need to give them the direct link.
Artifact File Permissions
For others to be able to see your artifacts, the permissions need to be set correctly on each file.
To change your permissions on files in OneDrive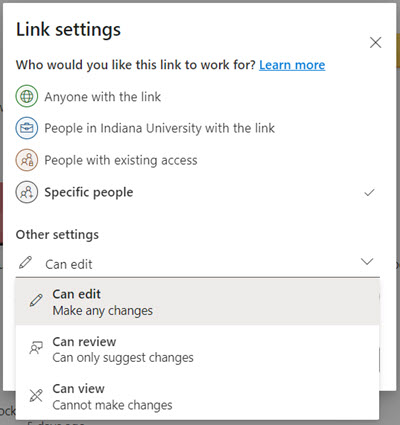 Log into Microsoft 365 at IU, select the App Launcher (9 dots) icon, and then choose the OneDrive (cloud) icon.
Navigate to the file you wish to share.
Right-click on the file and choose Share. For screen reader users, navigate past the file name and select the Share button (JAWS, NVDA) or press C to open the hovercard and then select Share (VoiceOver)
Select "People you specify can edit" to access the Link Settings.

Anyone with the link: If you want to share your eportfolio with the world
People at Indiana University with the link: If you need to share your eportfolio with your classmates or other evaluators
People with existing access: this is just you unless you've shared this file with someone else before.
Specific people: If you only need to share the artifact with your instructor.

Under "Other settings", in the drop-down by "Can edit," choose "Can View." You don't want others making changes to your artifacts.
Select Apply
If you chose "Specific People," begin typing each person's name in the "To:" field and then choose it when it appears in the list below.
Once your permissions are set, you can choose "Copy Link" to get the correct link to add to your Sway.
To change your permissions on files in Google Drive, see the Share Files from Google Drive instructions from Google.
To change your permissions for video stored in Kaltura, see the Publish Media section of Control media access in Kaltura in the KB. You'll want to choose "Unlisted" for anyone with the link to see the video.