3

Discussion around video – PlayPosit
In this section:
Discussion around video – PlayPosit
Discussion around video – PlayPosit
WHY THIS ACTIVITY WORKS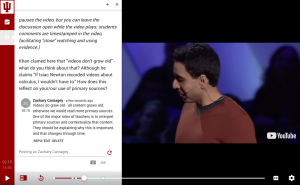 Discussions require deeper engagement than most other questions, so students are necessarily spending more time analyzing, reflecting on, and/or synthesizing around video content. As with any discussion, open-ended questions (e.g., "Why do you think…?") lead to more meaningful discourse than close-ended question (e.g., "What are the steps of photosynthesis?"). Participation in PlayPosit discussions can be auto-graded, or you can manually grade students' responses.
---
Create a new bulb and add the source video(s).
Select APPLY TEMPLATE, scroll down to "Discussion" and APPLY.
(optional) Click on the text and delete/edit the generic "Class Discussion Activity" text and video. Enter a discussion prompt in its place.
(optional) In edit mode, select "Advanced" options for this interaction. For example, if you would like PlayPosit to auto-grade based on participation, select "Learners automatically earn full points on submission of comments."
(optional) Click Timing at the top of the "Interaction" window to adjust how long the discussion lasts. By default it will last for the entire video.
Select DONE.
Click REVIEW at the top-right of the Interactions screen once you have finished adding interactions.
(optional) Click PREVIEW to see your bulb from the student view.
Click SAVE then CLOSE and you will be returned to the "My Bulbs" page you accessed from Canvas.
Click the red circular Canvas logo just to the right of the thumbnail for your new bulb – it should be at the top of the list.
Ensure the "Learner Experience" is Self Paced. Click LINK then click the blue SELECT button.
Complete the Assignment settings (e.g., point value and due date) and Save it.
TECHNICAL GUIDES