Stop #1: The Administration Building
The Administration building stands on the former site of the South Bend Watch Factory, which was founded by a group of German watchmakers and was ultimately purchased by the Studebaker Brothers in 1902. By 1922,  a million Americans walked round sporting a watch from this factory! This successful clockworks eventually gave life to the River Park neighborhood that grew to surround the factory.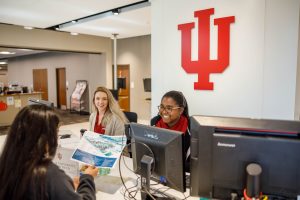 Now, the Administration Building serves as a one-stop-shop for any of a student's needs. On the first of the building, you can find the Office of Admissions, the Office of Financial Aid and Scholarships, and much, much more! Click through the menu below to explore the many support services available to IU South Bend students.
As you travel upstairs, you enter the Judd Leighton School of Business and Economics.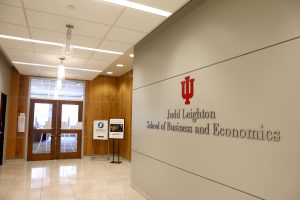 Home to 10 different undergraduate business degrees, including accounting, marketing, and finance, and two graduate business degrees Judd Leighton School of Business and Economics is well-recognized by employers throughout the Michiana region. Students are mentored by faculty who are not only outstanding researchers in their fields, but also passionate, caring educators, who prepare you to excel in today's fast-paced, dynamic business environment.
Let's keep it moving! Please walk to your left to stop #2, The University Grill.