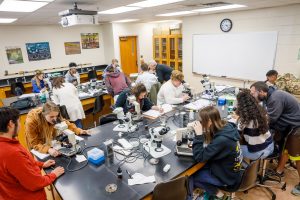 Opened in 1961, Northside Hall is both the oldest and largest building on campus.  It is home to majors such as Mathematics, Physics, Computer Science, Nursing, Social Work, and other health professions, such as Sports and Exercise Science, Clinical Lab Studies, Nursing, and Radiography.
There is a large auditorium located here with seating for 800. IU South Bend offers more than 75 music and theater productions each year. These productions, which are open to the public, enhance the cultural life of our campus and community.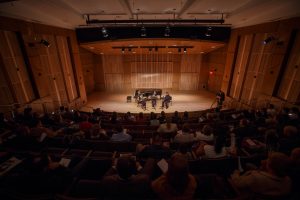 Renovations to the recital hall in 2015 were made possible by a gift from the Georgina Joshi Foundation to honor the life and vision of Louise and her daughter, Georgina, who performed at the Recital Hall. In spring 2015, the 224-seat venue replaced the Northside Recital Hall and features performances by soloists and small ensembles with national and global reputations. This includes Alexander Toradze, Ketevan Badrize, Edisher Savistski, the Euclid Quartet, and most recently NPR's Christopher O'Riley and Michael Mizrahi.
The campus bookstore also finds a home here in Northside Hall. Students can buy or rent their textbooks and eBooks here at the store or online. The bookstore also offers software, clothing, snacks, and various school supplies.
Northside Hall is topped by an observatory that was renovated in 2013.  Faculty from the Department of Physics and Astronomy invite students and community members to tour the facility on their "Meet the Stars" nights throughout the year.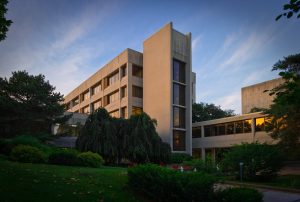 Continuing towards Mishawaka Avenue, you'll get a great view of Stop #8, our Pedestrian Mall.