Stop #6: River Crossing Student Housing
Spanning the St. Joseph River is our most recognizable campus landmark: the IU South Bend bridge! Built in 2006, the 600 foot pedestrian bridge connects River Crossing Campus Housing which sits south of the river to the main campus.
This is the former site of Playland Amusement Park. If you look closely at the far end of the housing quad, you can still see the amphitheater seating that surrounded the horse and "midget car" racing track. It was later home to the South Bend Blue Sox, part of the All American Girls Professional Baseball League from the movie "A League of Their Own."
The community building for campus housing offers a large event room with a big screen television and a computer lounge, as well as study spaces, a laundry room and exercise facilities. You don't have to live on campus to spend time in the community building.
River Crossing Campus Residences, which were completed in 2008, can accommodate 400 students in one-, two-, and four-bedroom units that come with furnished with full kitchens, wi-fi, and cable television. There are 8 different buildings, named Watershed, Bridge, Riverview, etc in honor of the St. Joseph River. At the head of the complex sits the Community Building, which offers and gathering space for larger events, study areas, games, a computer lounge, laundry, and mailboxes for residents.
If you choose to make your way across the bridge, make sure you look to your left. Situated between Northside Boulevard and the river, you can see Vera Z. Dwyer Hall, home to the University's Health and Wellness Center and a community health clinic, HealthLinc. Renovated in 2018, the IU South Bend Health and Wellness Center is an all-inclusive facility. Inside, you will find a range of services from vaccinations to birth control advice to STI services. We specialize in care for IU South Bend students, faculty and staff as well as the community.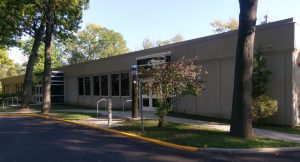 We encourage you to take a short walk over our beautiful bridge to take some pictures and stroll through our homey housing complex. If you're short on time, feel free to continue to your left to Stop #7, Northside Hall.