Stop #11: Mishawaka Avenue and Beyond!
Did you know that the IU South Bend campus extends beyond Mishawaka Avenue? We invite you to check out our two other campus locations, the Elkhart Center and the Civil Rights Heritage Center.
We love South Bend!
With just your student ID, the whole city of South Bend becomes your campus! IUSB is located in a safe and convenient area in the midst of the River Park neighborhood.  And, did you know that your Crimson Card also serves as a free bus pass? A few steps from campus is a bus stop that connects our students to the rest of town. With its many open-air concerts, festivals, and activities, there is always something fun to do in the Bend!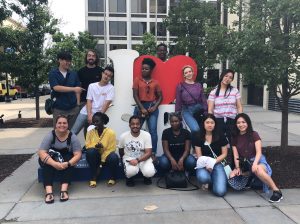 Curious about where to eat or what to do after your campus visit? Check here for ideas for a great afternoon in South Bend.