5

Administrative Permissions in IU Expand
In the MSA form, you will designate a Lead Catalog Administrator, the person with the administrative power over the catalog to add new listings, edit and delete course listings, and approve new catalog and sub catalog admin requests.
Other members of the team can also apply to become IU Expand catalog or sub catalog admins. To do so, each person seeking admin rights must send a request to iuexpand@iu.edu. The IU Expand Team will respond with a link to a request form for admin privileges. This form will be routed to the Lead Catalog Admin for approval.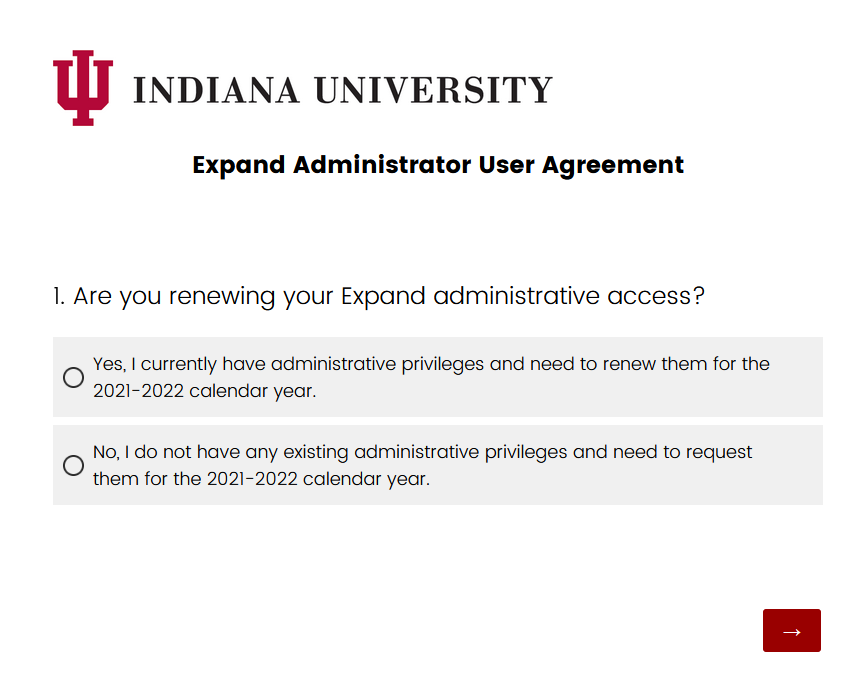 The body of the form details the IU Expand Administrator User Agreement. It includes two sections: Policies Governing Access to Institutional Data and Privileges and Responsibilities as an IU Expand Administrator.
The following information will be collected:
Lead Catalog Admin Full Name
Lead Catalog Admin Email Address
Requestor Full Name
Requestor IU Username
Requestor Email Address
Requestor Job Title
Requestor Department
Requestor Office Phone
Reason for Admin Access Request
Catalog or Sub Catalog Requested
Any Additional Questions or Comments from Requestor
Once the Admin Request Form is complete, it will route to the IU Expand Team for processing. Please allow 5-7 days, as approvals are dependent upon replies from the Lead Catalog Admin. If you have not received an email confirming your admin privileges after one week, please reach out to iuexpand@iu.edu.