Importing content from a previous course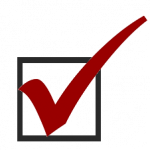 If you have content from a previous semester that you would like to use, you can import it into your new course site. You can import the entire course, or only specific parts. You can also import content from one section of a class into another section of the same class in the current semester to save time setting up multiple sections.
To import content from another course, you always start in the new (destination) course site and pull the content in from the original course using the Import Course Content tool. You do not want to copy the old course or export content from the old course.
See the following Canvas Guides for detailed instructions and images.
If you are importing assignments with due dates, make sure to adjust the due dates as part of the import process if you need to. (See How do I adjust events and due dates in a course import? for instructions). You can easily change due dates from one day of the week to another. If you're importing content from a spring semester to a fall semester, or vice-versa, they won't be exactly right because of breaks and holidays. However, they'll be close enough that you can adjust them by dragging them on the Calendar. (See about 2/3rds of the way down the "How do I edit an event or assignment in the Calendar?" Canvas Guide for an example).
IMPORTANT: NEVER just copy and paste content from a previous course site, especially when there are images, videos, or links to other parts of the Canvas site involved. They won't look to you like they are broken, even though they still refer back to your original course because you have access to the previous course site. However, the students in the destination site don't have access to the original site, and will not be able to see the image, watch the video, or use the link.
Incorporating the IU Fall 2020 Template
This information is
only for the IU Fall 2020 Template
.
The IU Fall 2020 Template begins with flag icon and the words "
Welcome to the IU Canvas Course Homepage!"
Please do not use the following instructions if you have a
school or department template in your course.
When you look at your Fall 2020 course you will see that there is a template on the home page of your course. The first line will read "Welcome to the IU Canvas Course Homepage!" We strongly encourage you to use the homepage template if you have previously set your homepage to the syllabus or modules.
As you read down the home page, you will see instructions for using the "full Canvas course template for your course." If you are teaching fully or partially online, there are useful templates we encourage you to read through. If you're planning to incorporate short video lectures into your course, the "Interactive Lecture" discussion is a nice way to allow students to ask questions about what they are watching. The assignment template features the Transparency in Learning and Teaching format, which is very helpful to clarify the purpose, task, and criteria of each of your assignments for students who may not be able to communicate with you as easily as they would in an in-person course.
If you already have your assignments set up and would like to save some time, you can import a set of 16 pre-made weekly modules from Canvas Commons, each with only the module overview page. You can then fill in the module overview pages and add your existing assignments to their respective week. If you are teaching a 13 week course, simply delete the last three modules. This set of modules also includes the assignment template, which you will find in the Assignments tool and the interactive lecture template, which you will find in the Discussions tool.
Go to Canvas Commons to get the set of pre-made modules
Make sure to publish all of your modules and everything in them that you want students to be able to see. If there is not a green check mark to the right of the module name, students cannot see that module or anything in it.
Using module provides needed structure and organization for online classes – especially asynchronous online classes or classes where students may not be comfortable asking questions in a Zoom meeting. For more information on using Modules, please see Using Modules for course organization in this book.
Things to do after you import course content
There are a couple of things you want to do every semester when you import content from a previous course: check for broken links, and check for any typed-in dates that need to be changed by hand.
Check Links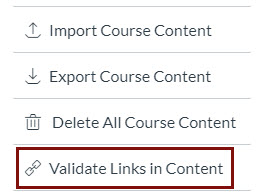 Use the Canvas link-checker to automatically check for broken links. The link checker is in the course Settings. Look for the button labeled Validate Links in Content on the right side of the page (or at the bottom of the page, if your screen is small).
Note that occasionally the link checker will return false positives, if the link is to a site that requires authentication or requires the user to click something before accessing the site. These will not necessarily need to be fixed.
See the Canvas Guide "How do I validate links in a course?" for full instructions.
Check for Typed-in Dates
Always check imported content to see if there are type-in dates from the previous semester that need to be updated. Updating due dates in the import process will not change dates typed directly into assignment text, assignment names, announcements, or module names.
Combine Sections if Needed
If you need to combine (cross-list) multiple sections of the same course into one Canvas site, make sure you do that from the site that has your content. This will pull the other section(s) into that site. If you start from a different site that does not have content, you will lose all the content in any other cross-listed sections. For instructions on using the Cross-listing Assistant, see the KB article "Cross-list Canvas Classes."
Questions? Talk to your campus teaching and learning center!
Click "Next" below at the bottom right to continue.