Video in Canvas group discussions
Canvas cannot connect to Kaltura from a Group Space, which includes Group Discussions. To get around this, if you are on a computer or mobile browser, you can copy the embed code from Kaltura and paste it into the Canvas discussion. You cannot do this on the Canvas app.
Open the video in Kaltura: My Media in Canvas. If My Media is not visible in this course, you can also go to the video in another course where My Media is active. If you cannot get access to My Media, you can go to Kaltura Mediaspace but please see the note below on privacy and Mediaspace.
In My Media, click the dropdown arrow next to the "Details" button and choose "Share."  The embed code will appear below.  In Mediaspace, click the "Share" tab and choose the "Embed" tab to get the embed code. The embed code will look like this:

<iframe id="kaltura_player" src="https://cdnapisec.kaltura.com/p/1751071/sp/175107100/ embedIframeJs/uiconf_id/26683571/partner_id/1751071?iframeembed=true&playerId= . . . .

Highlight and copy the embed code.
Go into your Group Discussion and click "Reply".
Embed the video

Click the "HTML Editor" link found above and to the right of the text editor toolbar.

Paste the embed code into the HTML Editor.
Click the "Rich Content Editor" link at the top right to return to the normal view where you should see your video.

Add anything else needed below your video and post your reply.
NOTE: If your video has been newly uploaded to Kaltura you may see a "media is being processed" animation where you expect your video to be. The video will appear once it has completed processing, though you may need to refresh your page to see it.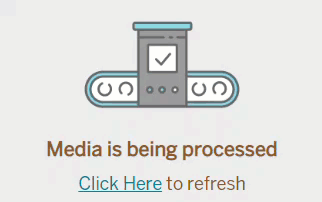 Note on the Mediaspace embed code: If you go to copy the embed code from Mediaspace, you will see a warning that reads "Grabbing the embed code will make this media public to the world and override all entitlements defined in MediaSpace." This effectively means that anyone with the link from the embed code will be able to see the video. When you paste the code into Canvas, the link is not visible but it can be discovered in the webpage code. If you are uncomfortable with this, please ask your instructor to enable Kaltura: My Media in the course.